There are several ways you can help the Canadian Mesothelioma Foundation achieve its goals.
You can make a donation. The CMF is a registered charity (BN: 851447953RR0001) and can issue a tax receipt for any donation over $20.
You can participate in the CMF's activities by becoming a volunteer, by hosting a fundraiser, or by becoming an advocate for those diagnosed with mesothelioma or exposed to asbestos.
Donations to the CMF may be made online, by cheque, or by credit card over the phone. All donations are greatly appreciated and always welcome!
On-line donation: On-line donations can be made through CanadaHelps.org. Please click button below to be directed to the donation page.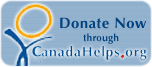 Donate by cheque: Please make out donations by cheque to the Canadian Mesothelioma Foundation and mail it to the CMF office at 4302-50 Yorkville Ave., Toronto ON, M4W 0A3.
Credit card: To donate by credit card (Visa and Mastercard) over the phone please contact us at info@cmfonline.org and we'll follow up with you right away to make individual arrangements.
Donate securities: The Canadian Mesothelioma Foundation has an arrangement with CIBC World Markets that allows you to gift securities to the CMF (see attached file).
Your financial support will assist us in:
improving treatment options for those afflicted with mesothelioma through the development of a network of health care professionals, mesothelioma expertise and resources across Canada;
promoting exchange of ideas and knowledge between physicians in Canada and abroad through educational exchanges, training and capacity building related to the disease;
providing support to patients and caregivers across Canada through support groups and other mechanisms connecting patients with one another and with the resources available to them, and
combating workplace and other exposure to asbestos through activities to increase awareness of the dangers of asbestos.
Thank you for your support!!